Alberta Energy Minister Calls Pandemic 'a Great Time' to Build Pipelines Due to Protest Restrictions.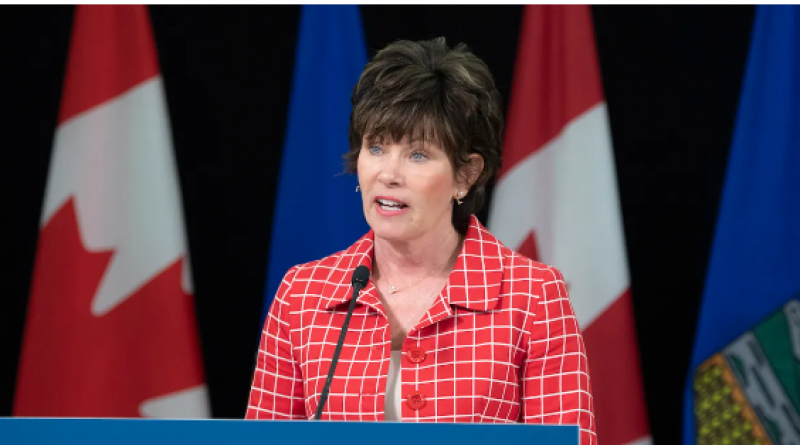 Anti-pipeline protests work.
That's the implication behind comments made by Alberta Energy Minister Sonya Savage Friday on how coronavirus social distancing requirements could ease the construction of Canada's controversial Trans Mountain Expansion project.
"Now is a great time to be building a pipeline because you can't have protests of more than 15 people," Savage said, as The Canadian Press reported. "Let's get it built."
Savage made the comments while speaking on a Canadian Association of Oilwell Drilling Contractors podcast. After the remark, the interviewer laughed, but Savage did not.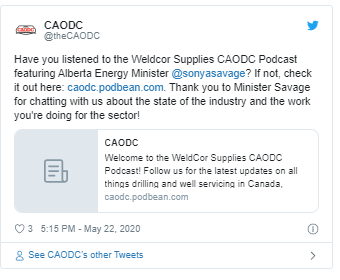 Savage also argued that the political and economic climate caused by the pandemic would not favor protesters.
"People are not going to have tolerance and patience for protests that get in the way of people working," she said on the podcast. "People need jobs and those types of ideological protests that get in the way are not going to be tolerated by ordinary Canadians."
The Trans Mountain pipeline expansion, which would nearly triple the amount of oil carried from Edmonton, Alberta to Burnaby, British Columbia from 300,000 to 890,000 barrels per day, has faced fierce opposition from environmental groups, the B.C. government and some indigenous communities along its route, BBC News reported. Pipeline opponents cite the risk of oil spills, the threat to endangered orcas off the B.C. coast and the climate crisis as reasons the project should not be expanded.
Construction on the project began in December, but in the podcast Savage acknowledged that protests had been a major hurdle.
"The activists have been so effective because the industry has been so ineffective," Savage said, as HuffPost reported. "They outsmarted the entire industry […] they got ahead of everyone."
Both Alberta and British Columbia have actually increased their upward limit on outdoor gatherings to 50, according to The Canadian Press. But while protesting in person against a pipeline might be more difficult because of the coronavirus pandemic, the outbreak has actually given environmental groups and frontline communities another reason to oppose them. Because oil and gas has been designated an "essential service" by the Alberta government, work camps have spread the new disease to rural areas, HuffPost pointed out. In one April incident, an outbreak at Imperial Oil's Kearl mine led to more than 100 cases in Western Canada. Another outbreak at the Canadian Natural Resources Ltd. Horizon oilsands mine generated at least five new cases last week.
"Can't believe we have to say it but it absolutely is NOT a 'great time' to build a pipeline," 350 Canada tweeted in response to Savage's comments. "We are in the midst of a health and climate crisis. And setting up man camps will endanger the lives of Indigenous and rural communities with already strained healthcare systems."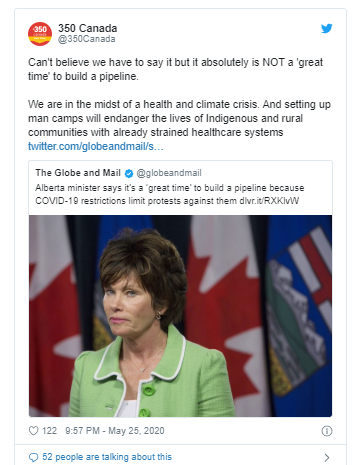 Savage's spokesperson Kavi Bal acknowledged that she spoke on the podcast but denied that social distancing measures were good for the industry.
"We respect the right to lawful protests," Bal told The Canadian Press. "I would note that the limitations to public gatherings … have benefited no one – including project proponents and any opposition groups."
Irfan Sabir, the Opposition New Democrat energy critic, denounced Savage's remarks and Alberta's ruling United Conservative Party (UCP), led by pro-fossil-fuel Premier Jason Kenney.
"These comments do not come as a shock," he said. "The UCP have already used the pandemic as an excuse to suspend environmental monitoring. When combined with the minister's latest comments, this will harm the reputation of Alberta's energy industry and inhibit our ability to attract investment and get our product to market."
26 May 2020
EcoWatch