The Global Youth Led Campaign To Save Bugoma Forest. NEMA Revoke ESIA certificate.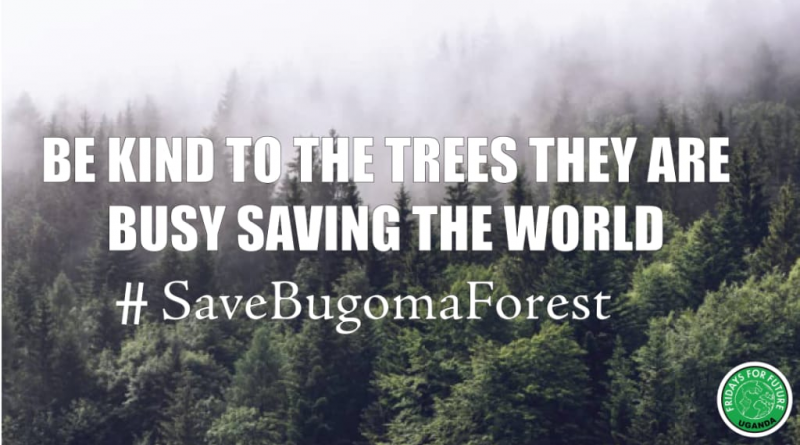 Bugoma Forest is continuing to face serious threats from loggers, farmers, and NEMA a government agency entrusted with protecting our natural resources. It should be recalled that the National Environmental Management Authority (NEMA) authorized Hoima Sugar Ltd to replace part of the forest with sugarcane by issuing an Environment and Social Impact Assessment Certificate (ESIA).
On the 17th of September 2020 at Sheraton hotel with support from the Swedish Embassy we launched the Global Youth Led Campaign to Save Bugoma Forest. We demanded that NEMA revokes the ESIA certificate; we asked that government uses its power to repossess Bugoma forest land and demanded for the immediate resignation of all officials involved in issuing the controversial certificate. 
Since the launch of the campaign more civil society organizations and key government officials including the speaker of parliament have joined the call to save Bugoma forest but little has been achieved in action. We need to urgently triple our efforts in order to force action from NEMA. We have thereforededicated the 28th of October to demand NEMA to revoke the ESIA certificate it issued to Hoima sugar Ltd.
We're asking you and your partners to use all available social media channels to send a strong message to NEMA asking it to immediately revoke the ESIA certificate. You can join this action day by holding a placard with words like "NEMA REVOKE ESIA CERTIFICATE ISSUED TO HOIMA SUGAR" and share on social media. You can also record a video with the same words or words of your choice but carrying the same message.
Let us start building momentum in the build up to the 28th of October so that activists around the world can join us. In the build up to this day you can write a letter to media, tag activists inviting them to participate among other activities.
Twitter Storm 
Let's flood NEMA Twitter handle with messages. We would like you to tweet or record a video asking NEMA to revoke the ESIA certificate using the hash tags: #NEMARevokeESIACertificate and #SaveBugomaForest. Tag @nemaug to make sure the message gets to them. 
Below is an example of what can be shared;
"Bugoma forest is on the verge of extinction we can't let that happen. @nemaug revoke ESIA certificate now. #NEMARevokeESIACertificate #SaveBugomaForest". 
If you can't post the video on Twitter, feel free to share it in the GYLC WhatsApp group. 
We ask you to please share this information as much as possible, the more people know about it, the more our leaders will listen and the faster the action needed to save Bugoma Forest.
Together we can make a difference. 
Thank you for joining us in this fight to save Bugoma Forest. 
26 October 2020
Fridays For Future Uganda Team.