Cyclone Slams India, Bangladesh, Leaving 84 Dead and Millions Displaced During Pandemic.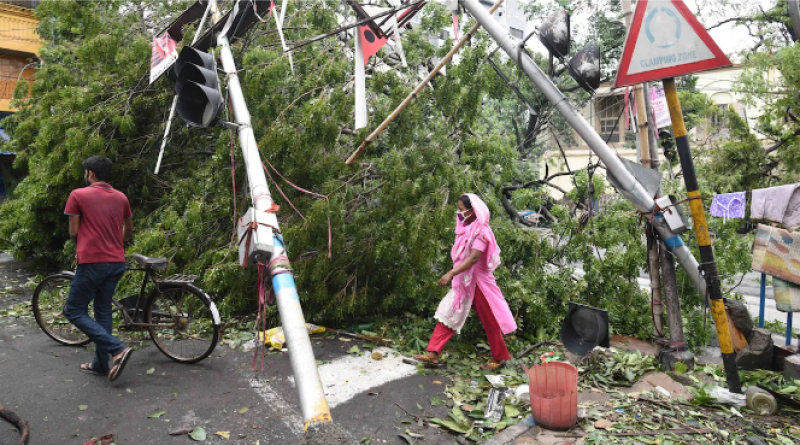 At least 84 people were killed when Cyclone Amphan walloped India and Bangladesh Wednesday, bringing "war-like" destruction to the city of Kolkata in the Indian state of West Bengal, The Guardian reported.
The response to the storm, which made landfall as the equivalent of a Category 2 hurricane, was complicated by the spread of the new coronavirus. While around three million people in India and Bangladesh evacuated to safety ahead of the storm, some villagers remained in place out of fear of contracting the virus in a crowded shelter, The New York Times reported.
"At one end there is this small Covid virus that is terrifying people," West Bengal chief minister Mamata Banerjee said in a video conference reported by The New York Times. "This was another virus from the sky."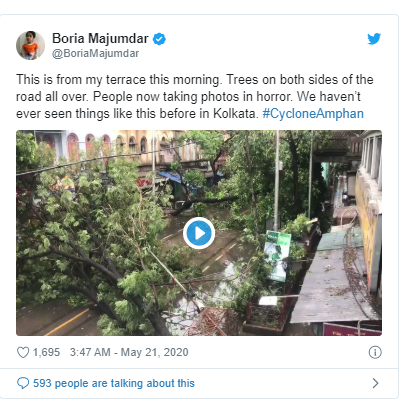 Causes of death included felled trees, downed electrical wires and collapsed buildings. In Bangladesh, Khanat Begum and her 13-year-old daughter were killed when a gust of wind uprooted their neighbor's tree and dropped it on top of their house.
For the survivors, the storm also brought devastation. Hundreds of thousands of people saw their homes destroyed, according to The Guardian. This could enable the spread of the new coronavirus as people are forced to remain in shelters.
In Kolkata, home to around 14 million people, power was lost and many streets were flooded, BBC News reported. Banerjee said that two districts had been completely destroyed.
"We have to rebuild those districts from scratch," she said, as The Guardian reported: "Area after area has been ruined. I have experienced a war-like situation today."
At least 15 people in the city were killed, The New York Times reported. All told, at least 72 people died in West Bengal and 12 in Bangladesh, according to BBC News.
Bangladesh evacuated more people ahead of the storm than India, at 2.4 million compared with around 660,000, The New York Times reported. But the country was still hit hard.
"Even by Bangladeshi standards, this was a powerful storm," Save the Children in Bangladesh Humanitarian Director Mostak Hussain said in a statement. "We've received reports that more than 5 million people were disconnected from the electricity grid for their own safety as winds of 150kph smashed into power lines, destroying homes and uprooting trees. In some of the worst-affected areas there was a tidal surge of nearly three metres, causing dams to overflow and submerging low-lying villages and crops."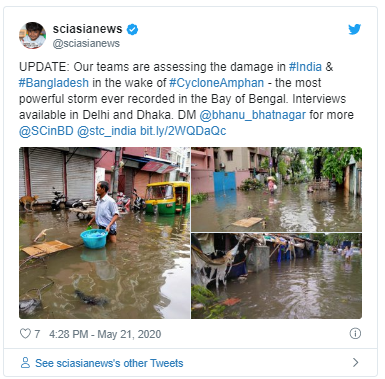 For a period Monday night, Cyclone Amphan became the most powerful storm ever recorded in the Bay of Bengal, with winds of up to 165 miles per hour, CNN reported. It weakened before making landfall, bringing sustained winds of 105 mile-per-hour winds and a five meter (approximately 16 foot) storm surge, according to the National Aeronautics and Space Administration. But it was still the worst storm to strike Kolkata in 100 years, The Guardian reported.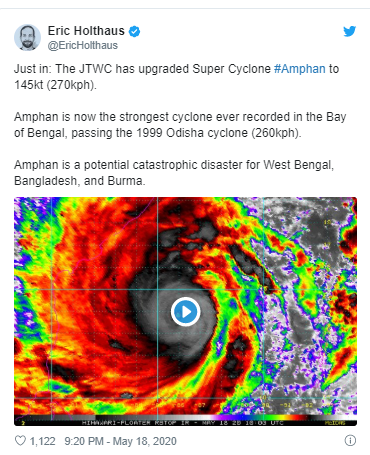 It struck the same week as a study confirmed that the climate crisis is making tropical storms more intense, increasing the chance that a cyclone develops into a Category 3 storm or higher by eight percent per decade since the late 1970s. Cyclone Amphan originally intensified after passing over water temperatures as warm as 88 degrees Fahrenheit, The New York Times reported.
"Sea surface temperatures are much warmer than normal in the Bay of Bengal right now," Colorado State University hurricane researcher Phil Klotzbach told CNN.
22 May 2020
EcoWatch