Special Issue "Renewable Energy Analysis and Prospecting Using GIS"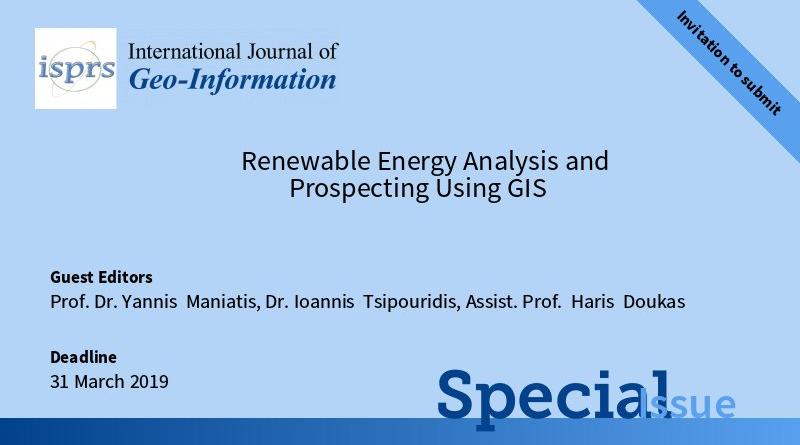 Dear Colleagues,
We are organizing a Special Issue entitled "Renewable Energy Analysis and Prospecting Using GIS" in the online journal, ISPRS International Journal of Geo-Information (IJGI, ISSN 2220-9964, http://www.mdpi.com/journal/ijgi). Based on your high quality work end experience in the subject of Geographic Information Systems, we warmly invite you to submit a manuscript for publication on the Special Issue.
The interfaces of Renewable Energy Sources (RES) and Geographic Information Systems (GIS) have received significant attention, from both academia and industry, since the early 2000s. This synergistic prospect is increasingly allowing end users and policymakers alike to access information, which is easily and quickly interpretable, properly contextualized, and therefore specifically tailored to their needs.
On the other hand, scientists coming from different disciplines related to renewable energy sources, energy production and transmission, environmental sciences, climate change continuously require more complete and specialized datasets to integrate in their analyses. Simultaneously, by facilitating data access and evaluation, as well as promoting open access to create a level playing field for non-funded scientists, data can be readily used for scientific research in renewable energy analysis.  […]
For further reading, please follow the link to the Special Issue https://www.mdpi.com/journal/ijgi/special_issues/Renewable_Energy_GIS
If this topic is of interest, you may send your manuscript now or up until the deadline (31 March 2019).
Submitted papers should not be under consideration for publication elsewhere.
We also encourage authors to send a short abstract or tentative title to the Editorial Office in advance (ijgi@mdpi.com or suzanne.ji@mdpi.com).
IJGI is jointly published by ISPRS and MDPI. It has a rapidly rising Impact Factor; according to the Journal Citation Reports published by Clarivate Analytics in June 2018, the new Impact Factor of IJGI is 1.723. IJGI is fully covered by the leading indexing services, including Science Citation Index Expanded (Web of Science), Scopus and Google Scholar. http://www.mdpi.com/journal/ijgi/indexing.
For further details on the submission process, please see the instructions for authors on the journal website
http://www.mdpi.com/journal/ijgi/instructions
To submit to the journal click
https://susy.mdpi.com/user/manuscripts/upload/db218f5e28864edf1405cbaa06f2bf4e?form[journal_id]=113&form[special_issue_id]=16595
We hope this Special Issue is of interest to you and look forward to hearing from you.
Kind regards,
Prof. Dr. Yannis Maniatis
University of Piraeus, MP, f. Minister of Environment, Energy & Climate Change, Greece
Dr. Ioannis Tsipouridis
Mentor at I.S.N.A.D, G. Manager R.E.D. Pro Consultants, Editor e-mc2
Assist. Prof. Haris Doukas
National Technical University of Athens, Greece
 
-- 

IJGI Editorial Office
Postfach, CH-4005 Basel, Switzerland
Office: Klybeckstrassse 64, CH-4057 Basel
E-mail: ijgi@mdpi.com
http://www.mdpi.com/journal/ijgi/

---------------
/IJGI/ Impact Factor 2017: 1.723