Vehicles And Factories As It Rolls Out Electric Crossover.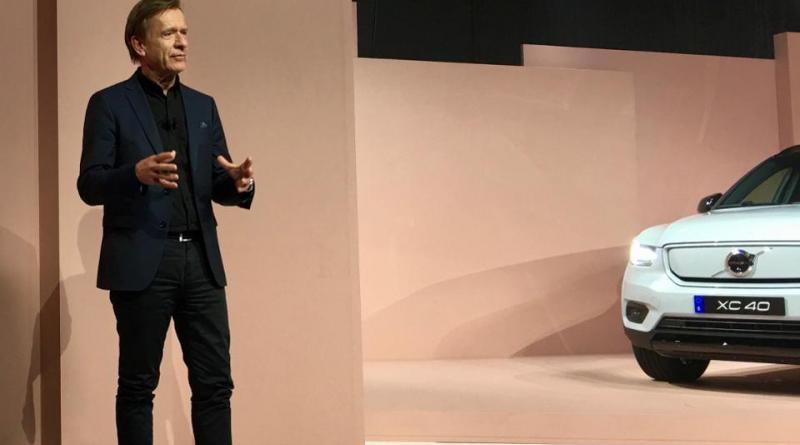 Electric cars are great at reducing tailpipe emissions, but building them is also highly energy-intensive, so Volvo is using the launch of its new XC40 Recharge EV to commit to a 40% reduction across the board in its carbon footprint, from factory operations to the on-road performance of its cars and SUVs. 
Håkan Samuelsson, the Swedish carmaker's CEO, told reporters in Los Angeles that the corporate sustainability target is to be met by 2025 and that, longer-term, Volvo's operations will be 100% carbon neutral by 2040. Hitting these targets requires increased use of renewable electricity at its auto-assembly plants in Europe, China and the U.S. and greater reuse of recycled materials, from steel, aluminum and plastics to cobalt from spent consumer market lithium-ion batteries. 
"We will bring sustainability into our company not as something add-on, because it's good or something that's expected of us. We bring it into the company because we think it's really good for our business," Samuelsson said on Wednesday. "It will make our company grow faster, it will make our company stronger, exactly as safety made Volvo stronger."
Car-clogged Los Angeles, with its long-running battles against auto exhaust and congestion, is a particularly appropriate backdrop for Volvo's sustainability plans as it's among the biggest markets in the U.S. for electric vehicles and renewable energy. And while California offers the most generous incentives for consumersto buy zero-emission vehicles, and EV charging infrastructure keeps growing, Volvo's plan to expand its line of battery-powered models faces a tougher road in the U.S. overall.
A new study from auto industry researcher J.D. Power published earlier Wednesday finds that consumer interest in buying electric cars remains "neutral," with a score of 55 out of 100 in its Q3 Mobility Confidence Index Study, using data from SurveyMonkey. Concerns include purchase prices for EVs that remain higher than those of gasoline-powered vehicles and the availability of charging infrastructure. Consumers are even more wary about self-driving vehicle technology, which scored only 36 out of hundred in the J.D. Power report. 
"It was a little surprising to find consumer sentiment about self-driving vehicles and electrification has stayed flat, but it shows that consumers are really steadfast in their opinions about new mobility technologies right now, regardless of how close they are to being available for purchase," said Kristin Kolodge, J.D. Power's executive director of driver interaction and human machine interface research. 
Google Now, Waymo Later?
The electric XC40 Recharge will have about 250 miles of range per charge when it goes on sale in the U.S. next year, priced at about $50,000, Volvo CTO Henrik Green said. It will be Volvo's first model designed to get over-the-air software updates to gain new capabilities—a feature Tesla pioneered years ago—and will integrate Google's new Android operating system, Google Assistant, Google Maps and Google Play into the infotainment system with voice control. It will have driver-assist features, but won't have the necessary sensors and long-range vision system to eventually gain autonomous driving capability.
Given that Volvo is using an extensive amount of Google software, could the company eventually work with Alphabet's Waymo on a self-driving version?
"Could also be," Green said. "Waymo is part of Alphabet and I think they are impressive in what they do. That's a company we would, of course, love to collaborate with."
The XC40's 78-kilowatt-hour battery pack, with cells supplied by LG Chem and China's CATL, delivers 408 horsepower and 0-60 mph acceleration in under 5 seconds. To further entice buyers, Volvo is offering one year of free charging for the XC40 and its plug-in hybrid vehicles at its dealerships.
Samuelsson says Volvo's bet on electric vehicles and more sustainable production methods looks less risky in light of regulations in Europe and other international markets and because consumers will ultimately find them more enjoyable to drive. "Once you go to an electric car—and can charge it—I think you'll probably stay with it. Same as always, once you have a car with an automatic gearbox you never go back to a stick shift." 
"The whole idea with technology is it must bring more attractive cars to consumers. If you also have a green conscience and can say you're doing something for the environment it's a bonus but that will not sell the cars," he said. "If you do nothing are just to continue selling what you already have, I would be quite sure that that's even more risky."
16 October 2019
Forbes