Pandemic takes toll on funding for low-carbon innovation.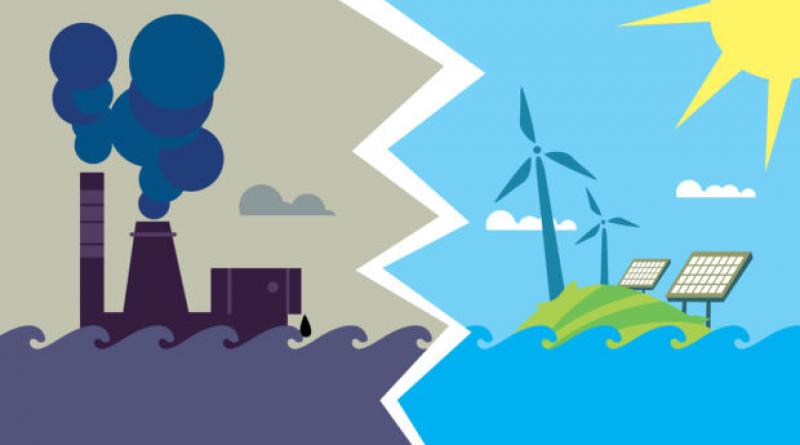 "Recovery plans rooted in the energy transition represent a far-sighted investment." So claims Irena, the International Renewable Energy Agency.
It says too that for every million dollars invested in renewables or energy flexibility, at least 25 jobs are created, while each million invested in efficiency creates about 10 jobs.
Whether it is Irena, the International Energy Agency (IEA) or DNV GL, all are broadly saying the same thing — rapid, widespread adoption of low carbon energy is fundamental to a sustainable future for humankind.
According to the World Economic Forum (WEF), renewable energy has become investors' preferred choice for new power plants. For nearly two decades, renewable energy capacity has grown steadily. Today, 72% of all new power capacity commissioned is a renewables plant and that percentage will continue to rise as fossil fuel and nuclear stations are taken out of service.
Investment in renewable energy capacity worldwide was $282.2 billion last year, up 1% from 2018's $280.2bn, according to researchers at Bloomberg NEF (BNEF).
On June 16, WEF advisory board member for sustainable energy innovation Nelson Mojarro wrote: "During the Covid-19 pandemic, governments introduced full-lockdown measures that depressed electricity demand at historical levels (15%-30%) in many countries and generated an oversupply of available power capacity.
"As the crisis hit, grid operators sought the cheapest (and cleanest) supply source to balance the lower demand.
"Therefore, weaker electricity demand increased the share of renewables in the system while sending the more polluting and costly carbon fuels to the back of the queue.
"This effect happened even at a time of historically low fossil fuel prices, making carbon the biggest loser in the pandemic."
Mojarro went on to say that businesses and investors can play a role in boosting clean energy investment, both by promoting low-carbon supply chains and by grasping the opportunities of clean energy markets.
Imperial College London suggested too that "renewable power shares offer investors not only higher total returns relative to fossil fuels but also lower annualised volatility."
While it is clear that there are already sufficiently competent low carbon technologies available to make serious inroads into high carbon energy's market share, there remains a huge need for cheaper, more effective technologies and that is fuelling worldwide research and development activity.
According to the IEA, the Covid-19 pandemic has "had a rapid and negative impact on private sector funding for clean energy innovation, and is likely to set back the speed with which clean energy technologies can be developed and improved".
Chuck in the ongoing fourth oil price crash and together these two events have together made a sizeable dent in the short and perhaps also medium-term outlook for investment in energy of any kind.
In its World Energy Investment 2020 report, the IEA reported that 2020 will see global energy investment slump 20%, which equates to almost $400bn, compared to the 2% growth that was forecast before the crisis.
It warns that renewables will not be spared even though the offshore wind and Big Solar markets are currently humming.
"The slowdown in spending on key clean energy technologies risks undermining the much-needed transition to more resilient and sustainable energy systems," warned the agency's executive director, Fatih Birol, in May.
"The crisis has brought lower emissions but for all the wrong reasons. If we are to achieve a lasting reduction in global emissions, then we will need to see a rapid increase in clean energy investment."
That same month, the IEA contacted a number of large companies that are active in the development of technologies expected to play a significant role in the achievement of net-zero emissions.
The agency concentrated on four specific technology areas: electrification, hydrogen, carbon capture, utilisation and storage (CCUS), and digitalisation.
It included end-user companies out with energy, including companies from the iron and steel, cement and chemicals sectors, where energy efficiency is a huge issue.
The 28 companies that responded represent nearly 1.5 million employees worldwide.
The responses indicated "serious disquiet among experts about keeping their innovation pipelines flowing over the next couple of years".
The IEA said: "Most respondents think it is at least 'somewhat likely' that all elements of their R&D, demonstration and deployment strategies will be affected.
"Companies that are prioritising technologies for the electrification of energy demand, especially those in heavy industry, consider it likely that their R&D budgets will be considerably or significantly reduced.
"Companies pursuing CCUS consider it very likely that public budgets and grants for these technologies will be more uncertain and possibly reduced.
"Taking account of perceptions of risk in terms of both the magnitude of the impact and its likelihood, the highest levels of unease are focused on the demonstration and early adoption stages of the innovation process.
"There is unease in particular about the stability of public R&D funds, which are generally sought by corporations for testing in the field, the ability to execute large-scale demonstration projects, the resilience of collaborations, and a slowdown in adoption of new clean energy technologies."
Worryingly, the amount of venture capital (VC) money upon which so much new low carbon energy technology depends for early stage development has halved globally since 2012 to around $4bn last year.
It seems that the relative attractiveness of clean energy is not keeping pace with other technology areas like biotechnology and IT.
The complexity of the global clean energy system makes it hard to assess how Covid-19 will affect the speed with which clean energy technologies can be developed and improved.
This is compounded by widespread uncertainty about the longer term impacts of the pandemic.
However, according to the IEA, available data and historical precedent suggest significant cause for concern, given the urgency of the need to compress innovation timelines for clean energy technologies.
It warns: "There are signs that the global clean energy innovation system will be hard hit by spending cutbacks, especially in the private sector, with the largest impact in the near term being a tougher environment for scale-up and commercialisation. In simple terms, there is a risk that the "valley of death" (that small technology developers have to cross) becomes deeper and wider."
The IEA further warns: "In the absence of policy interventions, demonstration, early adoption and learning-by-doing are expected to suffer the most in the first instance.
"A number of energy-related companies reported year-on-year declines in R&D budgets in the first quarter of 2020, and the number of VC deals was also down.
"The impacts are likely to be uneven across countries, with emerging economies finding it hardest to plug gaps in innovation systems."
In its Post-Covid Recovery Plan, Irena suggests the crisis has provided an unexpected foreshadowing of the mounting climate emergency and that now is the right moment to reassess long-standing assumptions, perceived barriers, and default decisions, not least regarding the use of energy and from where we source it.
Irena claims that investments starting now can put renewable power generation on track to grow five times faster than current plans would indicate. It says that $49 trillion should be invested in renewables and efficiency over the decade until 2030 and that effective R&D is a cornerstone of that ambition.
For the UK, the outlook for low carbon R&D investment is vague.
As the UK no longer belongs to the EU, access to Brussels' R&D money would appear to be curtailed and certainly restricted from the end of this year.
However, a number of UK university multi-year projects that attracted European funding several years back will continue.
An example is the Bryden Centre, a low carbon multi-PhD incubator centred on Queen's University, Belfast with the University of the Highlands and Islands and Letterkenny Institute of Technology in the Irish Republic as partners.
The UK Government is investing up to £1.3 million in a new offshore wind innovation hub, to be delivered by the Offshore Renewable Energy Catapult and the Knowledge Transfer Network.
The hub's first programme is the Offshore Wind Innovation Exchange (OWiX) initiated at the start of 2018.
This cross-sector initiative intended to accelerate the cost reduction of energy from offshore wind by matching industry challenges with innovative solutions adopted from other parts of the UK economy.
Given that much of the UK's current and future offshore wind power generation capability is in the hands of EU companies, this suggests that Brussels will continue to be tapped for R&D money long after Brexit is fully implemented.
The latest figures released by BNEF revealed that global investments in offshore wind farms, largely in UK waters, surged to a new high of $35bn in the first six months of this year, well above 2019's full-year figure of $31.9bn.
Twenty-eight sea-based wind farms were given the go-ahead in the first half of 2020 and represent a powerful R&D driver. Developments include the 1.1GW, $3.8 bn SSE Seagreen project off Scotland's East Coast.
Despite the enormous disruption caused by the coronavirus pandemic, offshore wind has just experienced its 'busiest half year ever'.
The European Commission is in the process of finalising its next multi-annual R&D funding programme, Horizon Europe, which will run from 2021 to 2027.
It currently foresees an allocation of $17bn for energy, climate and mobility, which represents 16% of the total Horizon Europe budget.
Much of this will go to clean energy R&D: funding for fossil fuel extraction and use has been mostly phased out.
EU-funded projects are increasingly open to participation from overseas collaborators, including emerging economies. That may be a way in for the UK.
Horizon Europe will continue the diversification of funding instruments begun under its NER300 predecessor to meet innovators' needs, including blended finance options for large-scale demonstration projects, innovation prizes, support for small and medium-sized enterprises, and equity funding for start-ups.
As part of this, an "Innovation Fund" is under development with the aim of recycling up to $11bn of revenue from carbon dioxide trading to demonstration projects.
Renewed efforts are also being made to further harmonise EU and member states' research funding through initiatives similar to the "Fuel Cell and Hydrogen Joint Undertaking", which unites public and private funds and co-ordinates expenditure of over $200m a year.
But while R&D spending is likely to suffer in the next few years, the IEA advises that it can be expected to be much less affected than capital expenditure, as companies seek to retain R&D staff and capabilities and to complete ongoing projects.
According to the agency, major companies in several sectors have restated their commitment to a longer term decarbonisation strategy in spite of the challenges ahead.
It warns that cuts to capital investment could, however, be more damaging than cuts to R&D for large-scale demonstration of technologies such as CCUS.
Some delays have been announced to hydrogen projects, for instance in Sweden, where a project aiming to develop several commercial-scale demonstrators for methanol based on electrolytic hydrogen has delayed the detailed engineering phase, although only by a matter of months (Liquid Wind, 2020).
Other projects may face delays as well.
Hydrogen Europe estimates that up to $148bn of investment in low-carbon hydrogen production projects may be at risk in Europe.
On a more positive note, there have also been various confirmations of pre-Covid development plans for hydrogen technologies.
Germany and Norway announced in early June their hydrogen development strategies with firm commitments.
The Next Generation EU plan could also see investments in hydrogen technologies as a tool to support the economic recovery from the Covid-19 crisis.
Near-term, however, in terms of timings and, ultimately, money made available, so much hinges on whether Covid-19 is vanquished in the next few months or whether there will be a second and perhaps more pernicious wave over the coming winter.
5 August 2020
ENERGY VOICE