General Motors and EVgo Commit to Much Larger EV Fast Charger Network.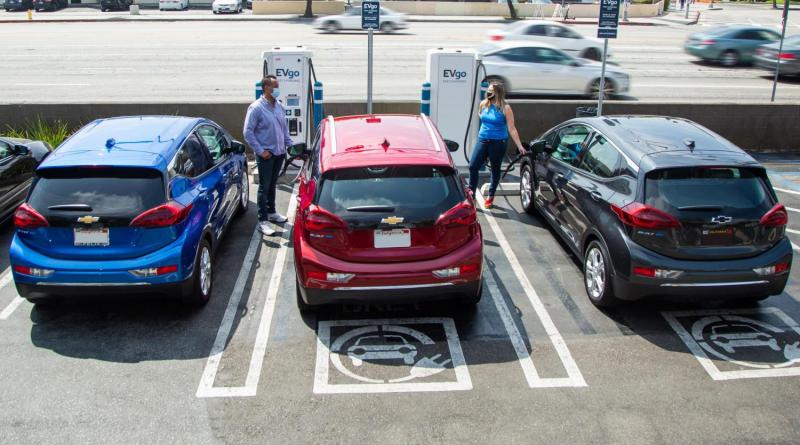 General Motors (GM) continues its push towards an all-electric, zero emissions future with theannouncement last Friday of the company's partnership with EVgo. Together, the companies say they will build an extensive EV fast charger network with a focus on locations in cities and suburbs over the next five years.
Earlier this year, General Motors unveiled the automaker's electric vehicle (EV) strategy with a commitment to roll out a range of EVs across all of the company's brands while providing customers a choice of cars, SUVs and trucks, including offerings from the company's flagship Cadillac brand.
Underpinning the rapid roll-out of this multi-vehicle, multi-brand strategy is GM's development with LG Chem of proprietary and modular Ultium battery technology that the company believes will allow it to quickly scale its EV portfolio by 2025.
Complementing its vehicle strategy, the new announcement to bolster America's charging infrastructure with EVgo follows the same timeline, with a commitment to add 2,700 new fast chargers in 40 metropolitan areas, thereby tripling the size of EVgo's network - already the largest operator in the U.S. according to a joint press release.
EVgo currently operates more than 800 fast charging locations across 34 states. The company's CEO, Cathy Zoi, says 115 million Americans already live within a 15-minute drive of an EVgo fast charging station. Since 2019, EVgo has contracted to power 100 percent of its chargers with renewable energy.
Speaking during Friday's briefing, GM's CEO, Mary Barra, said that following extensive research, the company found that range anxiety "has fallen to the background" among consumers: no doubt as better battery technology has given rise to much improved vehicle range between charges. Now, customers say they want an extensive EV fast charger networks.
The focus on deploying new infrastructure in metro areas as opposed to highway corridors follows the two CEOs' beliefs that an EV fast charger infrastructure has to be built out for those drivers who don't have easy access to at-home charging.
So, good news for apartment-dwelling city drivers. But not only that, the two companies see the increase in EV use for ride share and home delivery services as an indicator that there will be increasing demand for convenient access to urban charging locations. In addition, because vehicles being used for these purposes tend to be in use over greater periods of time during the day, they stand to have a significant impact on decarbonizing transportation.
GM and EVgo declined to say during the press briefing which metro areas will be involved in the new EV fast charger infrastructure build-out and were not forthcoming on the financial commitment to make it happen. They did, however, say that they hope to ultimately secure support from Washington, D.C., by way of devising incentives for consumers to adopt clean vehicle purchases. 
How receptive the federal government will be remains to be seen, but since the economy is in the doldrums due to the strain of the pandemic, the companies recognize that historically speaking, the auto sector has always played an important part in economic recovery, so there is an opportunity to do so again.
During the briefing, EVgo's Cathy Zoi described the expanded EV fast charger partnership with GM as a "gigantic step forward" in meeting future infrastructure demand and indicated that demand will continue to increase.
For an automaker to focus on an ambitious EV fast charger infrastructure is of course not new. From the outset, Tesla recognized that if the public was to adopt its EVs, the company had to make them convenient to use. So, Tesla invested hugely in building its Supercharger network so drivers could make long journeys without worrying about going without a charge.
GM's and EVgo's partnership, however, has the advantage that their charging infrastructure will be open to all EV users, regardless of brand.
4 August 2020
TRIPLEPUNDIT