Digging in: a million trees planted as villages and schools join climate battle.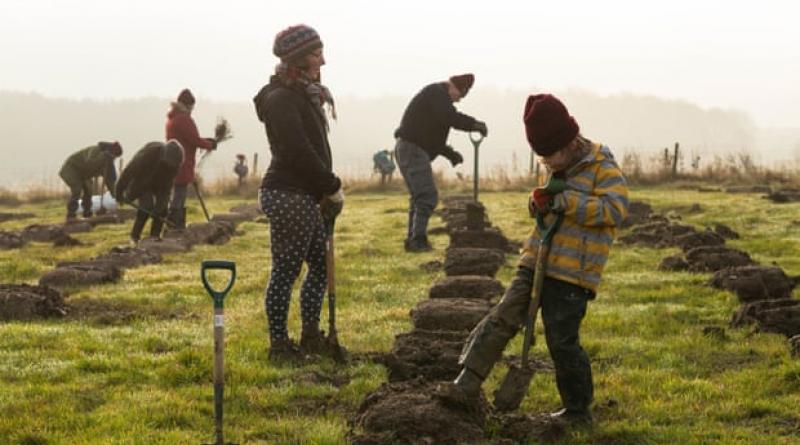 Community forest projects have seen a surge in volunteers keen to reduce CO2 emissions by creating new woodlands.
The UK may be in the grip of a winter lockdown but in one village on the edge of the Yorkshire Dales the local climate-change group has been busy.
Plans are afoot to plant hundreds of trees on land surrounding Newton-le-Willows, in lower Wensleydale, in an effort to tackle the climate crisis. According to scientists, planting billions of trees across the world is one of the biggest and cheapest ways of taking CO2 out of the atmosphere.
Bob Sampson, a former land-use planning adviser for the Ministry of Agriculture and member of the village's climate-change group, has written to local landowners asking permission to grow trees on their land. Seven have agreed so far, and he is now recruiting villagers to sponsor, and plant, trees.
The group is asking for £2 to cover the cost of a tree, a cane and a spiral to protect it from rabbits. They are yet to announce their plans in the village newsletter, but after a post on a WhatsApp group, which was started when the first lockdown was imposed in March last year, they've already had offers to sponsor more than 150 trees. "There's been a positive response, much better than I was anticipating," says Sampson.
"We'll be planting trees including oak, sycamore, birch and rowan, which will be tailored to relevant sites and will benefit both the climate and the environment in terms of landscape and wildlife."
This is not the only community gearing up to tackle the climate crisis during the pandemic. Since the first lockdown, there has been an increase in the number of people getting involved in projects aimed at improving local environments.
The Woodland Trust, which runs a free trees scheme for schools and community groups, has seen this firsthand. Last year it sent out a total of just over one million trees. Despite Covid, it had more applications for spring 2021 trees than for the previous year and it is due to send out close to half a million saplings. In December the trust was seeing between 5,000 and 10,000 trees being applied for daily; the average is 4,000 a day.