Are cool roofs the future for Australian cities?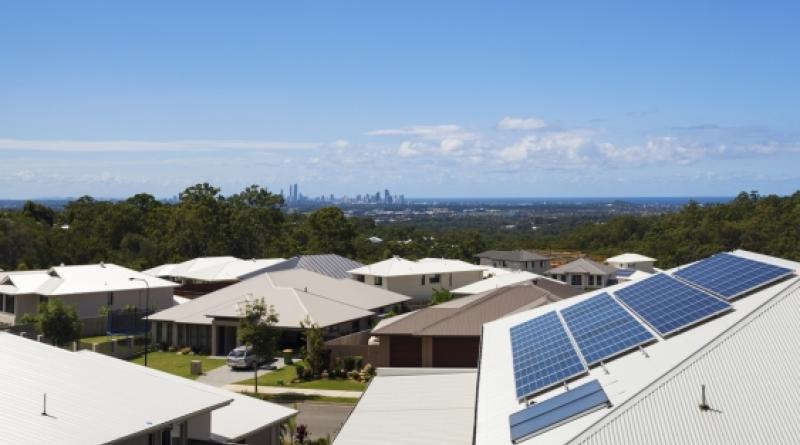 Outdoor air temperature and cooling energy consumption can be significantly reduced by solar reflective material, research finds.
A UNSW Sydney research team's technological and cost-benefit analyses of adopting cool roof technology across major Australian cities has found that city-wide implementation of cool roofs would reduce energy bills, lower indoor temperatures, decrease urban heating and improve the health of vulnerable populations.
Cool roofs reflect more solar radiation than they absorb and, as a result, they stay cool in sunlight. These cost-benefit analyses of cool roof implementation come a month after the new NSW Planning Minister, Anthony Roberts, scrapped a previous policy commitment to phase out dark roofs – a policy which would have reduced urban heating and energy costs for new homes.
The analyses undertaken by the High Performance Architecture team at the School of Built Environment at UNSW Arts, Design & Architecture was part of a project funded by the federal Department of Industry, Science, Energy and Resources (DISER) aimed at understanding the applicability and cost-benefit of using cool roof technology on buildings in Australia and any barriers to adoption.
"The study investigated the climatic, social, economic and environmental impacts of implementing cool roofs around Australia," says Scientia Professor Mattheos (Mat) Santamouris, Anita Lawrence Chair in High Performance Architecture at UNSW School of Built Environment.
"We used simulated climatic modelling to understand conditions with and without cool roofs. The results showed urban areas, including Western Sydney, Perth, Melbourne, Adelaide, Darwin and Brisbane, had the most to gain from cool roofs.
"The need for cool roofs and other heat mitigation technologies should really be a priority," says Professor Santamouris. "If not, the cost of climatic change in the next 10 to 15 years will be tremendous."
Cool roof technology provides savings on energy costs
The analyses looked at 17 types of buildings, ranging from low to high rise, commercial to residential and stand-alone to apartment blocks. Existing buildings with low insulation levels have the most to gain in energy savings by implementing cool roofs. Meanwhile, newer buildings with higher levels of insulation have relatively less scope for energy savings compared to less insulated buildings – but there are savings nonetheless.
The research found that cool roof technology will significantly reduce cooling energy consumption. Indoor temperatures in residential houses would be reduced by up to 4 degrees Celsius with a cool roof, with the number of hours exceeding 26 degrees Celsius reduced by 100 hours per summer compared to conventional roofs, which absorb sunlight rather than reflect it.
If the whole of Sydney implemented cool roofs, energy consumption for cooling residential and commercial buildings would decrease by up to 40 per cent in total.
"During summer, a building in Western Sydney will require double the energy to cool down compared to the same building in eastern Sydney," says Professor Santamouris.
"Western Sydney is especially at risk of urban overheating, meaning the low-income households are more likely to either spend more on cooling or are forced to endure heat-related stress indoors. It's a very serious problem."
---
How cool roofs reduce outdoor air temperatures
Besides individual household energy savings, the city-scale deployment of cool roofs also provides collective cooling benefits for entire suburbs.
With all Australian cities currently suffering from urban overheating, implementing cool roof technology and pavements will reduce temperatures in entire cities by up to 2 degrees Celsius over the summer period. This is because heat is not transferred from the materials' surfaces into the atmosphere.
The research also shows that city-scale use of cool roofs would reduce the maximum peak outdoor air temperature, which occurs at 2pm each day, by an average of 1.5 degrees Celsius to 2 degrees Celsius during summer.
Lower outdoor temperatures mean air-conditioning will run more efficiently. Along with lower energy consumption, our energy grids will experience reduced demand at peak times during the summer months, thereby lowering emissions.
"Another benefit to lower outdoor temperatures is that people will experience less thermal stress, meaning decreased mortalities and increased indoor safety and comfort during heatwaves," Professor Santamouris says.
"Cool roofs can reduce heat-related mortality by up to 25-30 per cent. They will also help address energy poverty – an issue severely impacting the quality of life of low-income households."
City-wide implementation of cool roofs has many benefits including reducing energy bills, lowering indoor temperatures and decreasing urban heating. Image: Supplied.
What are the barriers to adopting cool roofs?
Despite a well-established manufacturing sector producing cool roof materials domestically, a lack of legislation, policy support, accreditation standards and awareness is holding the Australian cool roof industry back, the research report says.
"If the barriers were addressed and cool roof technology widely implemented, then approximately 150,000 new jobs would be generated in Australia," Professor Santamouris says.
"The infrastructure is already here. Australia has 10 different companies producing cool materials and exporting them all over the world.
"There is vast data and evidence that cool roof technology works and it has been used extensively in the last 15-20 years overseas.
"More than 250 cool roof technology projects around the world have succeeded in decreasing city air average temperatures by 2.5 degrees Celsius to 4 degrees Celsius," says Professor Santamouris. "And there are new technologies in development that will be able to decrease by 5 degrees Celsius."
The US, EU, Japan and China have already widely adopted cool roof technologies and cooling materials in urban environments  through legislation and creating incentives via policies. For instance, in California it is a requirement by law to use cool roofing materials as part of their building codes.
---
How do you get a cool roof and what does it cost?
The cost of a cool roof is comparable to that of a conventional roof and there are options, for example:
Cool roofs can be either retrofitted or installed via a full roof replacement. This does not necessarily cost more than conventional roofs, particularly if households are retrofitting an existing roof.
Retrofitting can be as simple as repainting an existing roof or going as far as a full roof replacement with cool materials.
Prices vary depending on materials used and design of the building, however, generally the average cost of cool roof material is AU$13 per square metre.
Most cool roof materials can already be purchased at typical hardware stores. These include highly reflective paint, metal surfaces, tiles, shingles and paving materials
 NADIA RAZZHIGAEVA | https://newsroom.unsw.edu.au/