Sizewell C: government reignites £20bn nuclear power station row.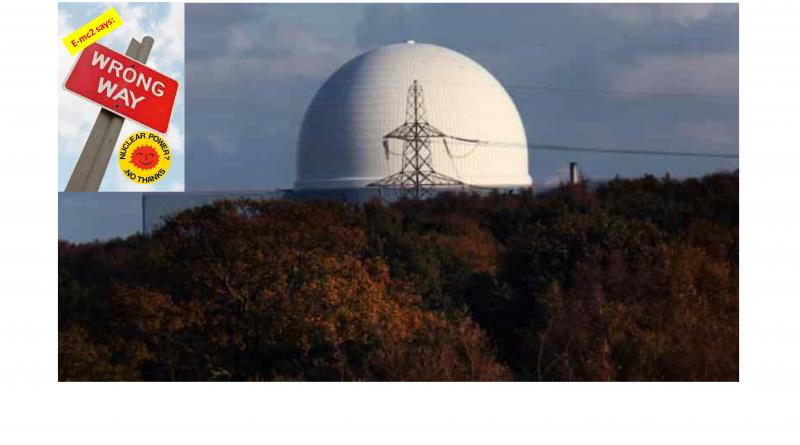 Talks with EDF could lead to energy customers being charged for construction costs.
The government has reignited a row over Britain's nuclear energy ambitions by agreeing to restart talks with EDF over plans to build a reactor at Sizewell C in Suffolk.
The talks could lead to the government taking a direct financial stake in the project before the end of the current parliamentary term in 2024, and using a new financial model that would make the public liable for cost overruns.
The formal negotiations over the £20bn nuclear plant will hinge on whether the French state-owned EDF can prove it has learned lessons from its Hinkley Point nuclear project in Somerset, and that a successor plant would offer the public value for money.
If it succeeds it may be offered a multi-billion-pound deal that allows it to charge energy customers for the cost of construction while it builds the reactor, effectively putting bill payers on the hook for delays or cost overruns.
Ed Miliband, Labour's shadow business secretary, accused the government of "kicking big decisions into touch" and failing to offer a "definitive statement today one way or the other on financing, costs or an overall plan".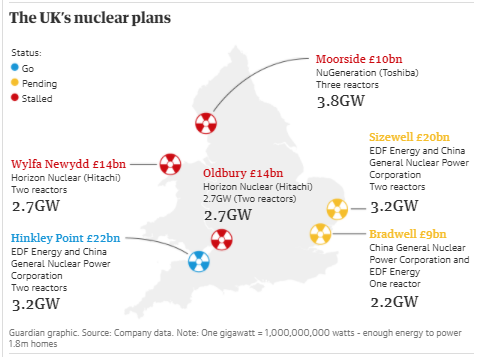 The decision to restart talks is also expected to reopen a debate over whether nuclear energy can offer good value for money, and whether the UK needs new nuclear reactors to help meet a steep rise in demand for low-carbon electricity to power a boom in electric vehicles, induction hobs and heat pumps.
Sizewell is "a vital next step" in the UK's efforts to secure new low-carbon electricity as older nuclear reactors prepare to shut down, according to the Nuclear Industry Association. It added that "an appropriate financing model" would help cut costs and unlock major benefits for the UK economy.
The decision to restart formal negotiations follows a hiatus in talks that have been dogged by concerns over cost, and the involvement of China General Nuclear Power (CGN), which owns 20% of the project.
But environmental campaigners, including Greenpeace, have warned that nuclear reactors are "unnecessary" and expensive compared with renewable energy combined with battery storage technology. The community group Stop Sizewell added that the reactor posed a risk to the natural habitats along the Suffolk coast and the nearby Minsmere nature reserve.
"It's good to see the government is determined to shift away from fossil fuels and create thousands of green jobs but building more nuclear power stations is not the way to do it," said John Sauven, the executive director of Greenpeace.
"While ministers have been talking to EDF about Sizewell C for years, the offshore wind industry has got on with the job and delivered. If discussions with the majority French-state-owned company ever progressed, the UK public will need to stump up billions of pounds in advance. This money would be far better spent on a flexible grid that can handle the shedloads of cheap renewables increasingly powering the UK," he said.
The government said it would only consider playing a greater role in the Sizewell project if there was "clear value for money for consumers and taxpayers". It is also planning to back a new generation of small modular nuclear reactors, or "mini nukes", which can be built at a lower cost.
The fresh Sizewell talks were announced alongside industry-wide plans to cut carbon emissions from the energy system while keeping a lid on energy bills and helping to create 220,000 new jobs in the next 10 years.
Alok Sharma, the business and energy secretary, said the energy white paper released on Monday will transform the government's "climate ambition into climate action" through a "decisive and permanent shift away from our dependence on fossil fuels".
The energy white paper also included proposals to cut energy bills, replace fossil fuel boilers, introduce a new emissions trading scheme in the UK and support the North Sea extraction industry in moving away from oil and gas.
Sharma added: "At every step of the way, we will place affordability and fairness at the heart of our reforms – unleashing a wave of competition so consumers get the best deals possible on their bills, while protecting the vulnerable and fuel poor with additional financial support."
14 December 2020
The Guardian