'Ridiculous': Greta Thunberg blasts decision to let UAE oil boss chair climate talks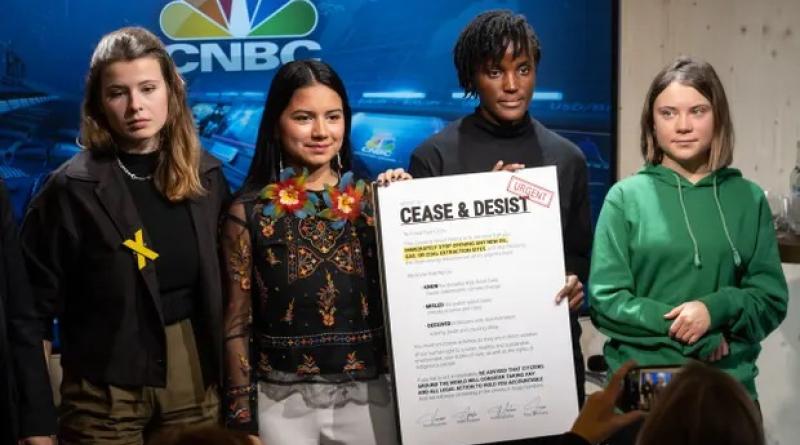 Climate activist at Davos says lobbyists have been influencing conferences 'since forever'
Four years after taking the World Economic Forum by storm, Greta Thunberg returned to Davos on Thursday to blast the United Arab Emirates for appointing the head of its state-owned oil company to chair the Cop28 climate talks later this year.
Thunberg said it was "completely ridiculous" that Sultan Ahmed al-Jaber, chief executive of the Abu Dhabi National Oil Company (ADNOC), will preside over the next round of global climate talks in Dubai in November.
She told an event on the sidelines of the WEF's annual meeting in Davos that lobbyists have been influencing these conferences "since, basically, forever".
"This just puts a very clear face to it," she added. "It's completely ridiculous."
Luisa Neubauer, a German climate activist, also called the move "ridiculous", but not a new development, as lobbyists had flocked to the last Cop meeting in Egypt.
Helena Gualinga, from an Indigenous community in the Amazon rainforest in Ecuador, said UAE's move sent the message that the climate issue was not being taken seriously.
"I just think it sends a message of where we're headed right now, if we're putting the heads of fossil fuel companies to lead climate negotiations," Gualinga said.
In November, ADNOC's board decided to bring forward its goal to expand its oil production to 5m barrels a day to 2027 from 2030 to meet rising global energy demand.
In response to the activists comments, a Cop28 spokesperson insisted al-Jaber – who founded renewable energy firm Masdar in 2006 – was "uniquely qualified to deliver a succesful Cop28".
The Cop28 spokesperson said: "Dr Sultan is an energy expert and founder of one of the world's leading rewnewable energy companies, a senior business leader, a government minister and a climate diplomat with over 20 years of experience of taking climate action."
Thunberg also demanded fossil fuel bosses immediately stop opening any new fossil fuel extraction sites.
A "cease and desist" order, signed by Thunberg, and fellow activists Gualinga, Neubauer and Vanessa Nakate from Uganda, said Big Oil has known for decades that fossil fuels cause climate breakdown, and has misled the public and deceived politicians.
"You must end these activities as they are in direct violation of our human right to a clean, healthy and sustainable environment, your duty of care, as well as the rights of Indigenous people," the notice says.
The people who are mostly fueling the destruction of the planet, who are at the very core of the climate crisis, investing in fossil fuels, are in Davos, Thunberg said.
"And yet somehow these are the people that we seem to rely on solving our problems, where they have proven time and time again, that they are not prioritising that," she said. "They are prioritising self greed, corporate greed and short term economic profits above people and above planet."
Thunberg said it was "absurd" to be listening to these people, rather than to those in the frontline in the climate crisis.
Nakate said the climate crisis is evident in the areas that are most affected, such as the horn of Africa, where children are suffering from severe, acute malnutrition.
The quartet were joined by Fatih Birol, head of the International Energy Agency.
In 2021, the IEA said that exploitation and development of new oil and gas fields had to stop that year, if the world was to meet the goal of net zero emissions by 2050.
On Thursday, Birol said he was "very happy" that the activists were pushing the climate agenda forwards.
Birol warned it might not make sense for banks to fund new fossil fuel projects.
Asked about the banks who fund new oil and gas generation, despite their net zero pledges, Birol said it was "their money", not the IEA's. But added there was a risk that demand might not be there when new oilfields come online, perhaps six or seven years after the decision is taken to drill.
In 2019, Thunberg warned Davos delegates that "our house is on fire", after travelling by train to the ski resort in a 32-hour journey, and camping with climate scientists on the mountain slopes – where temperatures fell to -18C.
COVER PHOTO: From left to right: Luisa Neubauer, Helena Gualinga, Vanessa Nakate and Greta Thunberg at Davos. Photograph: Fabrice Coffrini/AFP/Getty Images