Rich countries hit $100bn climate finance goal two years late, data shows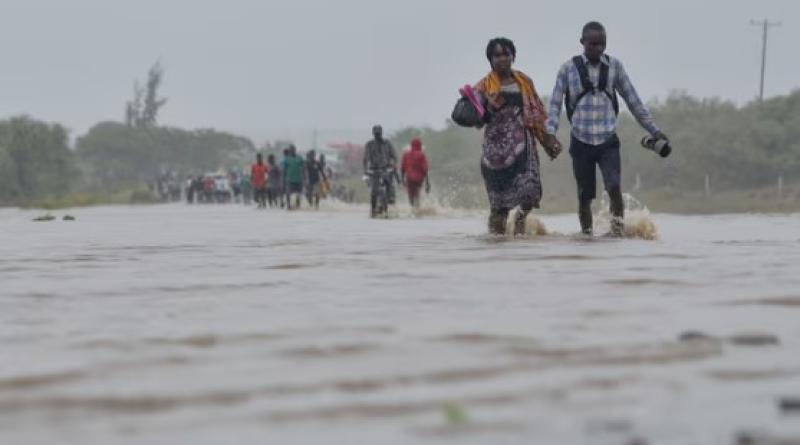 Annual funding promise made in 2009 to help poor countries deal with climate crisis had original 2020 target
The totemic promise by rich countries to provide $100bn (£80bn) a year to the poor world in climate finance has finally been met, two years after the deadline, data published on Thursday shows.
About $89.6bn was provided to developing countries in 2021, according to the Organisation for Economic Co-operation and Development, and that sum was likely to have exceeded $100bn in 2022, based on OECD preliminary data.
The 2021 figure was an 8% increase from $83bn in 2020, which was at the upper end of OECD estimates, giving the organisation confidence that the figure for 2022 was more than $100bn (although not all of the climate finance for last year can yet be counted).
The amount delivered this year will almost certainly also be greater than $100bn, according to the report.
The pledge of $100bn a year, intended to help poor countries cut their greenhouse gas emissions and adapt to the effects of the climate crisis, was first made in 2009 at the Copenhagen climate summit. Rich countries at that time promised that the amount would be delivered by 2020, but for several years it was apparent that this deadline would be missed.
That failure has been a source of tension in global climate talks. Poor countries have accused the rich of being untrustworthy, while rich countries have pleaded difficulties with mobilising grants and loans.
Showing that the promise has been met should be a significant boost for the Cop28 UN climate talks, which start in two weeks' time, in Dubai.
Steven Guilbeault, the climate and environment minister of Canada, which along with Germany was charged by the UN with coordinating progress on climate finance before Cop28, said: "[The previous failure to meet the target] showed countries like Canada and other developed countries were not serious. Having this information [showing] that we have met the goal is a very important milestone … [It] goes a long way to building the momentum we need to deliver a successful outcome in Dubai."
But rich countries also conceded they had to do much more.
Jennifer Morgan, a climate envoy for Germany, said: "This is an important step forward, but it's clear we can't stop here. We will require coordinated efforts by a whole range of actors [to ensure more finance in the future]."
Ani Dasgupta, president of the World Resources Institute thinktank, said: "Developed countries' failure to fully deliver on the $100bn goal by 2020 has been a dark cloud over the UN climate negotiations, eroding trust and stymying progress. News that the long overdue goal has likely been met is a very welcome ray of sunshine. This will help rebuild much-needed trust between developing and developed countries, which will go a long way toward achieving a positive outcome at Cop28."
Many countries will want developed nations to make up the shortfalls to the $100bn goal in 2020 and 2021, in the short term.
More importantly, the effects and urgency of the climate crisis have grown vastly since 2009 as greenhouse gas emissions have continued to rise, along with global temperatures, and climate impacts are being felt around the world in the form of extreme weather, heatwaves, floods, droughts and sea level rises.
Research last year by the economist Nicholas Stern showed developing countries would need about $2tn a year by 2030 to help shift their economies to a low-carbon footing, to adapt their infrastructure to extreme weather, and to cover the rescue and rehabilitation of communities stricken by climate disaster.
Guilbeault said: "At Copenhagen $100bn seemed like a lot of money. Now the conversation needs to shift. We need to mobilise 10 or 15 times as much. That is what the collective challenge is. But this shows as have made progress."
The trillions needed will not all come in the form of overseas aid from developed countries; most will come from the private sector. Most of the money required is already in play, in the form of investment from the private sector around the world, but it is directed at fossil fuels and high-carbon infrastructure, and needs to be redirected towards low-carbon ends.
Avinash Persaud, the special climate envoy and negotiator for Barbados, said: "I am not surprised. With the increasing focus on the failure to deliver on this promise, existing grants and loans have been reclassified as climate finance. Overseas development assistance has not increased by $100bn.
"Moreover, as we have slowly gotten closer, the target, always a little random, has become irrelevant. The failure of countries to mitigate means that the annual bill for climate loss and damage and resilience building – stuff the private sector does not fund, unlike wind and solar farms – is now over $500bn per year. It's good that we have got there, bad that it's taken so long that its main relevancy is as a promise now fulfilled."
Sultan Al Jaber, president-designate of the Cop28 talks, who is also chief of the United Arab Emirates' national oil company, Adnoc, said: "The announcement today is encouraging, but there is still room for further ambition. Rebuilding trust requires donor countries to live up to their past commitments. This includes an ambitious replenishment of the green climate fund and operationalising the fund and funding arrangements of the loss and damage fund at Cop28."
 Photograph: Emidio Josine/AFP/Getty Images - People walk through flood water in Mazive, southern Mozambique, in 2019.