Norway under pressure to scale back fossil fuel expansion plans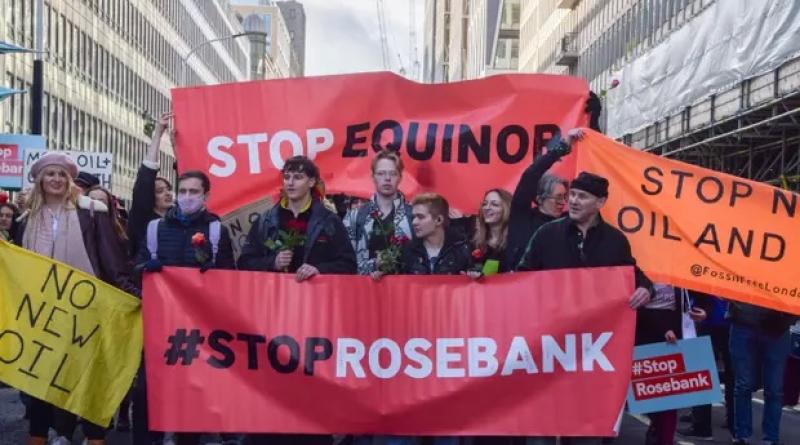 The Norwegian government is facing growing pressure to scale back its huge global fossil fuel expansion plans – including the development of a controversial new oilfield in the North Sea.
Climate activists from around the world descended on Stavanger in Norway last week to attend the AGM of the state-owned oil and gas giant Equinor. They warned that its plans to develop the huge Rosebank field in the North Sea, as well as other mega-projects in Canada, Brazil and Suriname, would drive climate breakdown with devastating consequences for humanity.
"You have been warned that we cannot have any new oil and gas fields if we are to have a shot at limiting the absolute worst of climate breakdown," Lauren MacDonald, 22, from Scotland, told the Equinor board during a speech at the AGM. "[But] you continue to expand fossil fuel operations despite desperate warnings from climate scientists and are spending next to nothing on the transition that is our only hope of survival."
Climate campaigners accuse the Norwegian government, which owns 67% of Equinor, of hypocrisy. They argue that at the same time as portraying itself as a climate leader on the world stage, the Norwegian state is ploughing ahead with new oil and gas developments around the world.
Recent analysis by Oil Change International found Norway is Europe's "most aggressive" explorer of new oil and gas fields, awarding 700 new exploration licences in the past decade as well as Equinor's specific plans.
In addition, it found the oil and gas within fields that are already licensed but not yet developed could lead to an additional 3 gigatonnes of CO2 emissions – 60 times Norway's annual domestic emissions.
Frode Pleym, the head of Greenpeace Norway, said: "Norway is rightly praised for its success of its electric vehicles, it was one of the first countries to ratify the Paris accords but at the same time it is planning to lock in oil and gas production for decades to come – not just for Norway but, because of the scale of its involvement, for the whole of Europe. It is taking climate hypocrisy to a whole new level and it has to stop."
The Rosebank project is one of Equinor's most controversial schemes and is facing widespread opposition in the UK. A massive North Sea development, three times bigger than the Cambo field that was put on hold more than a year ago, it has the potential to produce 500m barrels of oil, which when burned would emit as much carbon dioxide as running 56 coal-fired power stations for a year.Last month it was revealed that Rosebank would effectively blow the UK's carbon budget in the next decade, as greenhouse gas emissions from its operations alone – not counting emissions from any oil produced – would exceed the guideline amounts for the oil and gas sector.
The campaign group Uplift has also calculated that Equinor could receive an estimated £3.75bn of tax breaks and tax-funded incentives towards the estimated £4.1bn cost of the development, owing to loopholes in the government's windfall tax on North Sea fossil fuels. About 80% of the fossil fuels produced by Rosebank are likely to be exploited, and the development could turn into a net loss of £100m to the UK taxpayer.
A spokesperson for Equinor denied it was in line for any tax breaks or that UK taxpayers would lose out. They added: "Oil and gas will be needed in the decades ahead. As long as there is a need for oil and gas, we think it is important that we continue to invest in fields that can contribute to energy security with a low carbon footprint, while creating jobs and value for society."
The International Energy Agency warned before the UK-hosted Cop26 climate summit in 2021 that no new oil and gas exploration should take place if the world was to limit global heating to 1.5C above pre-industrial temperatures. This year, the UN secretary general, António Guterres, called on governments to halt new licences for oil and gas exploration and development.
A decision on whether Rosebank can go ahead is believed to be imminent, and the UK government could stop it, though the energy secretary, Grant Shapps, has said repeatedly the decision is not up to him.Opponents of the project are working with climate activists from Norway, Brazil, Canada and Argentina to try to stop Equinor's wider expansion plans.
Tessa Khan, the executive director of Uplift, said the Norwegian government was under increasing pressure to act.
"Norway claims to be a climate leader, but there is no way that it can show its face in the next round of climate talks while its state-backed energy firm is bent on massive oil and gas expansion … Norway can and must force Equinor to align its plans with the climate science and massively ramp up its transition to clean power, it must side with those countries that are already experiencing the climate crisis, that are demanding action now because they are running out of time."
Earlier this year, the Norwegian government passed a white paper saying all state-owned companies should set targets and implement measures to reduce greenhouse gas emissions in line with the Paris agreement.
At the AGM, campaigners from Greenpeace and the World Wide Fund for Nature put forward a similar motion. The motion failed, with the Norwegian government voting against it – although it did add a statement to the minutes saying it expected "the board and administration to work actively with the state's expectations" in relation to climate change.
Ragnhild Elisabeth Waagaard, the head of the climate and energy team at World Wide Fund for Nature Norway, said the Norwegian government's statement was a positive step and had increased the pressure on Equinor's board of directors. "We now expect the company to set targets and take measures to limit global warming to 1.5 degrees. This means that there is no room for new development of oil and gas fields".
In a statement, Halvard Ingebrigtsen, the secretary of state at Norway's ministry of trade, industry and fisheries, said: "In the new white paper on the state's direct ownership, the government states that our goal as an owner is the highest possible return over time in a sustainable manner. We also state that this requires the companies to balance economic, social and environmental factors.
"Norway is the first country to expect companies with state ownership to have short- and long-term climate targets in line with the Paris agreement, which implies net zero emissions by 2050."
cover photo:Climate activists protest in London in January against the Rosebank oilfield. Photograph: Vuk Valcic/ZUMA Press Wire/REX/Shutterstock