MOROCCO: the post office goes green with 225 Citroën Ami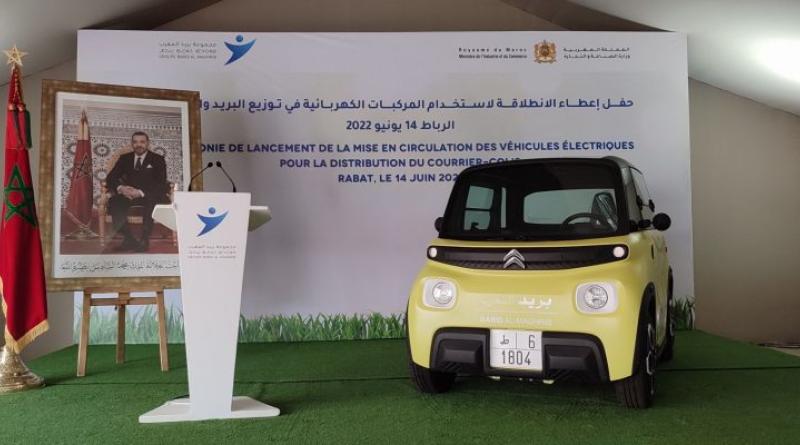 In Morocco, the Barid Al-Maghrib Post Office has announced the acquisition of 225 electric vehicles for parcel processing. The Citroën Ami vehicles that will be made available to the Post Office are manufactured in the Stellantis automotive group's plant in Kénitra.
The distribution of parcels and mail in Morocco will henceforth be carried out by electric vehicles. The Barid Al-Maghrib Post Office has taken delivery of 225 Citroën Ami vehicles assembled in the Kenitra plant belonging to the multinational Stellantis automotive group. This two-seater, which has a power of 6 kW on its 5.5 kWh lithium-ion battery, also includes a monochrome display showing speed (45 km/h), battery charge and range (75 km).
 "This first innovative operation of 225 electric vehicles specially designed for the distribution of mail and parcels for our postmen in the Kingdom's towns and cities is a concrete expression of our ambitions to reduce our environmental footprint through clean and sustainable mobility," says Ahmed Amin Benjelloun Touimi, Director of the Moroccan Post Office.
While the Citroën Ami is assembled in Morocco, Stellantis' European teams are responsible for its design and engineering. "Ami is a first step in the urban electric mobility industry in Morocco. This agreement makes public orders a lever for the development of industrial ecosystems, creating jobs and developing exports", declared Moulay Hafid Elalamy, the Moroccan Minister of Industry, when the contract between Barid Al-Maghri and Stellantis was signed in 2020.
Morocco is continuing its energy transition, and this also involves the development of sustainable mobility. Thus, the European Union (EU) announced in March 2022, the mobilization of 1.6 billion euros (a little more than 17 billion Moroccan dirhams) from 2022 to increase by 52% the share of renewable energy in the electricity mix of the Cherifian kingdom by 2025.
Benoit-Ivan Wansi  | https://www.afrik21.africa/