Lithium is expected to fuel the clean energy boom. This company may have a breakthrough.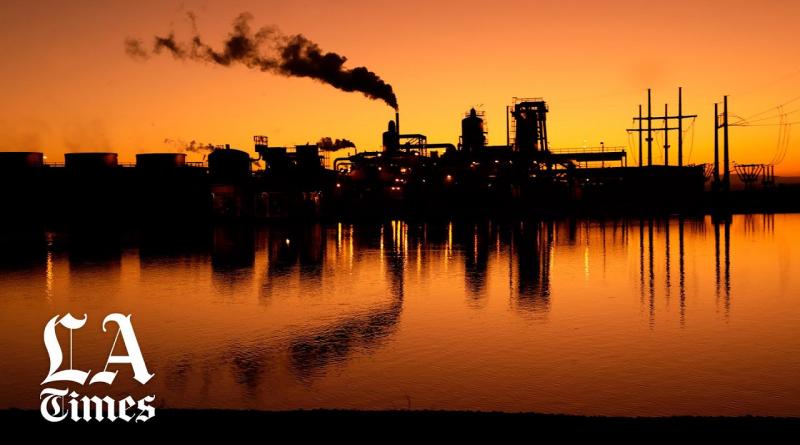 Gaze across the Salton Sea, a sparkling oasis in the California desert, and you'll see white plumes of steam rising against the hazy Chocolate Mountains.
The steam comes from 11 geothermal power plants, nestled between the accidental lake and the verdant farm fields of the Imperial Valley. The area has been churning out climate-friendly geothermal energy since the 1980s, long before solar panels and wind turbines became cheap and abundant.
The geothermal plants could soon contribute to California's war against climate change in a new way: by producing lithium, a key ingredient in batteries that power electric cars and store solar power for use after dark.
Companies have tried for decades to extract lithium from the super-heated underground fluid used for energy generation at the southern end of the Salton Sea, home to one of the world's most powerful natural geothermal hot spots. Just a few years ago, a technology startup called Simbol Materials went bust shortly after Elon Musk's Tesla Inc. offered to buy it for $325 million.
Now another company claims to have solved the lithium problem.
The process begins in a 45-foot-long shipping container at the John L. Featherstone geothermal plant, a few miles from the lake's receding shoreline. The plant is owned by Chevron, the New Zealand electricity generator Mercury NZ Limited and a San Diego-based company called EnergySource.
EnergySource, which built and operates the plant, filed a patent application for a lithium extraction technique in June, after three years working on the process. The company wouldn't allow photographs to be taken inside the shipping container during a recent tour, for fear of revealing details to competitors.
But Chief Operating Officer Derek Benson offered a peek inside the box, which was crowded with tanks and other equipment and emitted a steady hum.
"We've got it all instrumented up — just a small version of the commercial unit," Benson said.
Benson said EnergySource has produced "kilograms " of battery-grade lithium. A commercial extraction facility, he estimated, could produce 16,000 tons of lithium carbonate equivalent annually, with the potential for around 100,000 tons if the other Salton Sea geothermal plants adopt the firm's technology.
Demand for the metal is steadily rising, to supply production of the rechargeable lithium-ion batteries used in electric cars, energy storage systems and smartphones. Analysts at Bloomberg New Energy Finance project global lithium demand will grow from 300, 000 tons in 2017 to 1.8 million tons in 2030.
EnergySource's plant wouldn't rank among the world's biggest lithium production facilities, said Logan Goldie-Scot, head of energy storage research at Bloomberg New Energy Finance. But it would be the first major U.S. source, and it could represent an early step toward a domestic battery supply chain.
Today, most of the world's lithium comes from mines in Australia and South America, while China dominates battery manufacturing.
Efforts to extract lithium at the Salton Sea could unite environmentalists — who decry the destructive evaporation ponds used to produce the metal in South America–and national security hawks, who are loathe to rely on other countries for a mineral poised to play a key role in powering the U.S. economy. The Trump administration included lithium on a list of 35 minerals "critical to the economic and national security of the United States " last year.
If the Imperial Valley can eventually produce 50, 000 to 100, 000 tons of lithium, "that would clearly be impactful from a global level," Goldie-Scot said.
EnergySource isn't ready to produce thousands of tons of lithium just yet: The company says it needs to raise $350 million to build a commercial-scale extraction facility. In order to secure that financing, EnergySource probably has to sign up a buyer for most or all of the lithium it plans to produce.
It also isn't the only energy company with big plans for the Salton Sea.
An Australian firm called Controlled Thermal Resources is trying to build a geothermal power plant and a lithium extraction facility capable of producing 15, 000 tons by 2023 and 75, 000 tons by 2027. The company has leased thousands of acres from the Imperial Irrigation District on top of one of the most potent spots in the underground geothermal field, and it's negotiating financing to drill exploratory wells next year, Chief Executive Rod Colwell said.
There's more than enough lithium buried in the geothermal reservoir for multiple companies to succeed, Colwell said.
"Luckily we're sitting on the largest known U.S. reserve of lithium, " he said. "It's a wonderful resource, and we're all working very hard to realize it."
Still, potential investors will know the history of mineral extraction at the Salton Sea is checkered with failures.
Simbol Materials is only the latest example.
Warren Buffett's Berkshire Hathaway Energy, which owns 10 of the 11 geothermal plants in the area, abandoned an expensive initiative to produce zinc in the early 2000s. More recently, Berkshire tried unsuccessfully to find a partner for lithium production.
20 October 2019
The Seattle Times