At least 58 dead in Germany as heavy rains bring catastrophic flooding.
Parts of Belgium, France and Netherlands also badly affected as unprecedented rainfall wreaks havoc.
At least 58 people have died and dozens more are missing in Germany after much of western Europe was inundated by record rainfall that brought devastating floods.
"Climate change has arrived in Germany," the environment minister said, as the country reeled from the sight of destroyed buildings, upended cars and people stranded on rooftops.
Weather experts said rain in the region over the past 24 hours had been unprecedented, as a near-stationary low-pressure weather system also caused sustained local downpours to the west in France, the Netherlands and Belgium where media reported that eight people had died.
Angela Merkel expressed shock at the scope of the flooding. "I grieve for those who have lost their lives in this disaster," the German chancellor said during a visit to Washington DC. "We still don't know the number. But it will be many."
Everything would be done to find those still missing, she said, adding that "'heavy rain and flooding' doesn't capture what happened".
In the town of Schuld in the Eifel mountains 70 people were reported missing after several houses collapsed overnight.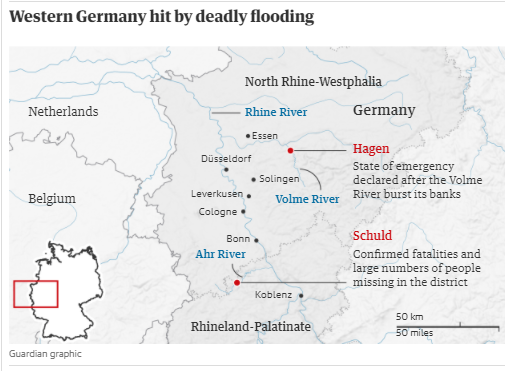 "It was catastrophic," said 65-year-old Edgar Gillessen, whose family home was damaged. "All these people living here, I know them all. I feel so sorry for them, they've lost everything," he told Reuters. "A friend had a workshop over there, nothing standing, the bakery, the butcher, it's all gone. It's scary. Unimaginable."
Across Rhineland-Palatinate state 28 deaths were confirmed by the evening. "There are dead people, there are missing people, and many who are still in danger," said the state premier, Malu Dreyer. "We have never seen a catastrophe like this," the Social Democrat politician added. "It is truly devastating."
The full extent of the damage in the region was still unclear after many villages were cut off by flood water and landslides that made roads impassable. Videos posted on social media showed cars floating down streets and houses partly collapsed.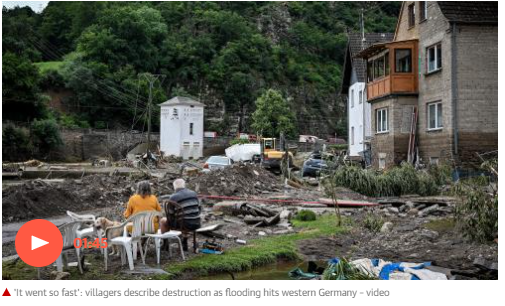 In the neighbouring western state of North Rhine-Westphalia, at least 30 people died, including two firefighters who drowned during rescue missions.
In at least four separate incidents, in the cities of Cologne, Solingen and Unna, people died after being trapped by the floods in their cellars. In Leverkusen, a hospital with 468 patients had to be evacuated overnight following a power failure, after the Dhünn River breached its banks.
As Germans prepare to go to the polls in September to choose a successor to Merkel, the extreme weather could heighten awareness of global heating, a topic with which the Greens, running second to Merkel's conservatives, have so far failed to dominate the agenda.
"Climate change has arrived in Germany," said the environment minister, Svenja Schulze. "The events show with what force the consequences of climate change can affect us all, and how important it is for us to adjust to extreme weather events in the future."
On national broadcaster ZDF, the news anchor Claus Kleber pointed out that low-pressure areas were nothing new in the region. "But the fact that they are becoming more common has to do with the Arctic and the air above it getting warmer and weakening the jet stream," Kleber said. "Therefore it has to do with climate change."
Annalena Baerbock, the German Greens' co-leader and candidate for chancellor, returned from her holidays to attend the situation, but did not immediately make the connection between the floods and the climate crisis.
"The destructive extent of the floods is shocking," Baerbock said. "My thoughts and sympathies are with the people who mourn for loved ones, worry about the missing and look after those carrying injuries."