GORD unveils Green Events Tool at COP26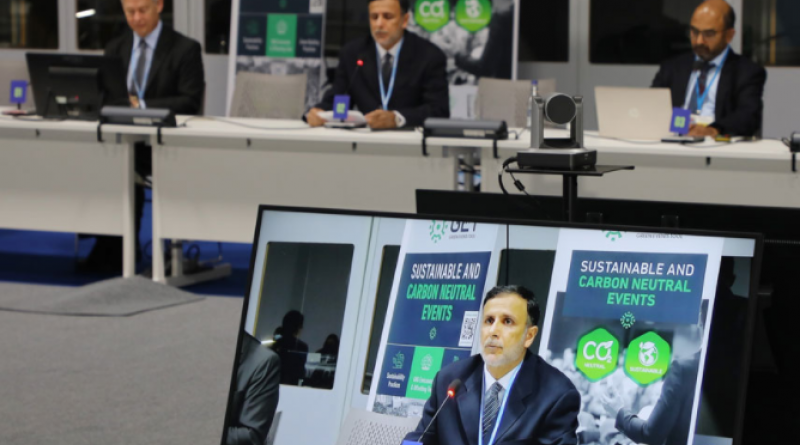 Marking its participation at the UN Climate Change Conference (COP26) in Glasgow, the Gulf Organisation for Research & Development (GORD) announced the launch of Green Events Tool (GET) developed collaboratively by GORD, United Nations Framework Convention on Climate Change (UNFCCC) secretariat and UN Environment Programme (UNEP).
Green Events Tool (GET) is an integrated web-based assessment platform conceived and designed to evaluate the environmental performance of events. With an aim to address climate change, the tool targets decarbonization by focusing on environmental impacts and GHG emissions of mega events, conferences, meetings, exhibitions and trade fairs, etc. From transportation and lodging to paper trails, catering and energy use, GET provides an all-encompassing approach that identifies ways to host ecofriendly events with minimal carbon footprint. GET can help to evaluate and try to reduce the carbon footprint of any event.
Leading GORD's delegation at COP26 is the organization's Founding Chairman, Dr. Yousef Alhorr. Speaking about the importance of Green Events Tool, Dr. Alhorr said, "In terms of carbon emissions, what's on an event's agenda represents only the tip of the iceberg. The upstream and downstream components of an event associated with travel, accommodation, logistics etc. account for massive amounts of GHG emissions and environmental footprints."
"Sustainability is increasingly being absorbed as a core part of social corporate responsibility. As an entity driving climate actions, GORD embarked on a mission to help organizations reach their GHG reduction targets by greening their events. To this end, Green Events Tool was conceived to quantify the carbon emissions of events, while also providing organizers with ways to improve their events' environmental performance by embracing sustainability practices, offsetting the unavoidable emissions and, where applicable, adopting green building standards for venues," he added.
Incorporating a mix of qualitative and quantitative methodologies, GET has been developed following the specifications by UN Environment Programme and the UNFCCC secretariat. Event activities recorded for GHG calculations by GET include carbon emissions associated with venue, flight, ground transportation, communication, audio-visual systems, production and exhibition, accommodation and catering.

Organizations using GET can calculate their overall score and declare it as a testament of their commitment to environmental sustainability. For wider awareness, the report can be submitted to the certification team for a third-party verification. Once the verification is complete, GET can generate the certification through the platform and publish. Depending on the overall achievement of the event, three different ratings (Bronze, Silver and Gold) can be achieved by organizations through GET. Depending upon the level of offsetting carried out from recognized GHG programs, the event can receive the 'carbon efficient' or 'carbon neutral' certification.
With its launch at COP26 in Glasgow, GET is now available for organizations to help them reduce their event's carbon footprint. GORD is among the leading organizations representing Qatar at UN Climate Change Conference (COP26). Represented by a multidisciplinary delegation, GORD's senior leadership is participating in UN Climate Change Conference (COP26) from November 8 to 12.
15 November 2021
GORD