Germany returns to policy favoring gigawatt-scale solar parks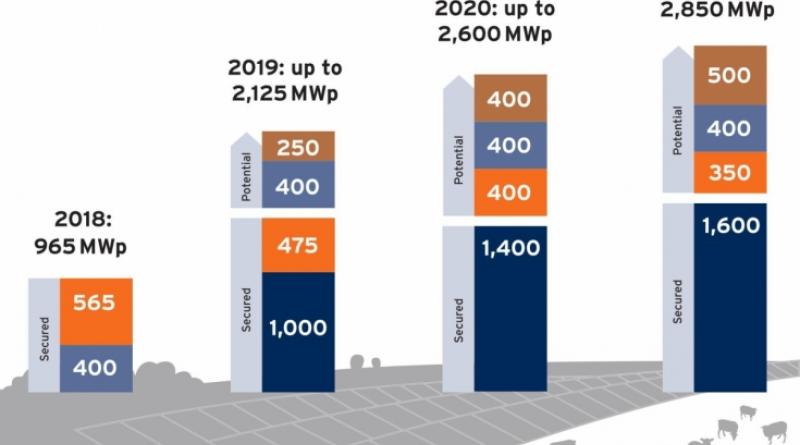 Over 3 billion Euros in new business is expected through additional tenders for PV power plants with an output of 4 GW by 2021 in Germany.
Since calling for tenders for the construction of photovoltaic power plants with an additional output of around 4 gigawatts by 2021, Germany has been moving ever more into the spotlight of major international solar project planners. The German Solar Association (BSW-Solar) – a major contributor to the drafting of the special invitations to tender – predicts deals totaling between 3.5 and 4.5 billion euros. "The solar market in Germany has once again become attractive and will likely remain that way – for international players, too," says Carsten Körnig, CEO of BSW-Solar.
"As the country moves away from nuclear power and fossil fuels and its government makes a push for other methods of climate conservation, a stark increase in photovoltaics and storage systems has become necessary in both the short and long term. We are inviting interested companies to support BSW in advocating for permanent, attractive conditions for investing in solar technology, stationary storage systems and e-mobility. In turn, they will benefit from our 40 years of industry experience", Körnig says.
Webinar on 13 February
From in-depth insights on regulatory framework conditions and current market developments to information on market entry - together with BSW-Solar, Intersolar Europe provides a webinar on everything worth knowing when it comes to entering the solar market. "The current development holds enormous business potential. How players can profit from this and how they can successfully strengthen their activities in the German solar market will therefore be presented together with BSW-Solar and other experts in the webinar," says Markus Elsässer, CEO of Solar Promotion GmbH. The Webinar is English-speaking and takes place on 13 February. Visithttps://bsw.li/2HgA8il to register. (HCN)
Stay informed, get our free newsletter twice a week. Register here
12 February 2019