EGYPT: Environ joins forces with Honeywell for innovation in plastic recycling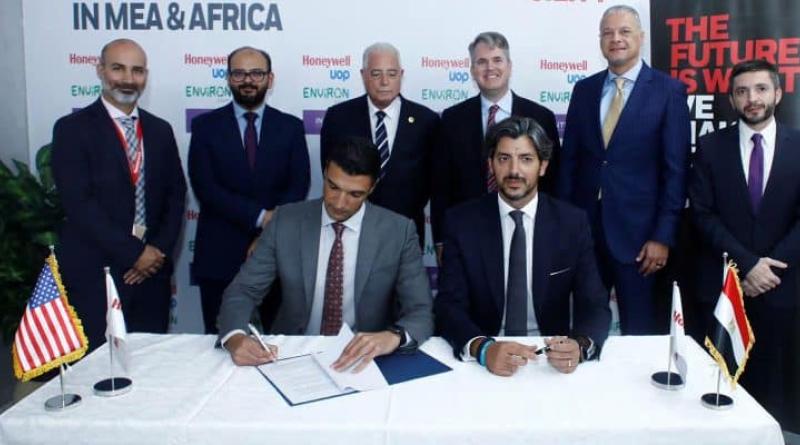 Egyptian company Environ Adapt for Recycling Industries has appointed Honeywell, a US-based technology solutions provider, to support it in developing innovative approaches to recycling plastic waste. The partnership agreement was signed on 28 November 2022.
The Egyptian company Environ Adapt for Recycling Industries wants to improve its performance. From now on, the waste treatment and resource recovery division of Intro Sustainable Resources Holding based in Al Qahirah, Cairo wants to convert plastic waste into "valuable recycled polymer raw materials (RFP)". Environ Adapt will then rely on the expertise of the American technology solutions provider, Honeywell, with whom it has just signed a partnership.
Honeywell will deploy its latest UpCycle Process technology at Environ Adapt's future plastics recycling plant. "Used in conjunction with other chemical and mechanical recycling processes, UpCycle Process has the potential to help recycle up to 90% of a plant's plastic waste, representing a significant increase in plastic waste that can be converted into polymer feedstock," says Environ Adapt.
Supporting Egypt's sustainability goals
In addition to deploying its technology, Honeywell will provide Environ Adapt with technical and commercial information and analysis, as well as wider support for the recycling project. Before this, a project feasibility study will be carried out to explore trends, raw material availability and potential markets, as well as technical studies for the operation of Environ Adapt's new plant. An overall project schedule will also be developed, followed by project modelling and financial analysis.
For Environ Adapt, the aim is to support Egypt's sustainability objectives, particularly through the reduction of carbon dioxide (CO2) emissions from the incineration of plastic waste. This is one of the greenhouse gases (GHGs) largely responsible for global warming. Since 2016, Egypt has sought to improve the quality of life of its people by 2030. Mitigating the effects of climate change through the establishment of an integrated and sustainable ecosystem that strengthens resilience and the ability to cope with natural hazards is one of the major projects of this policy.
Inès Magoum