We Are Not All In The Same Boat.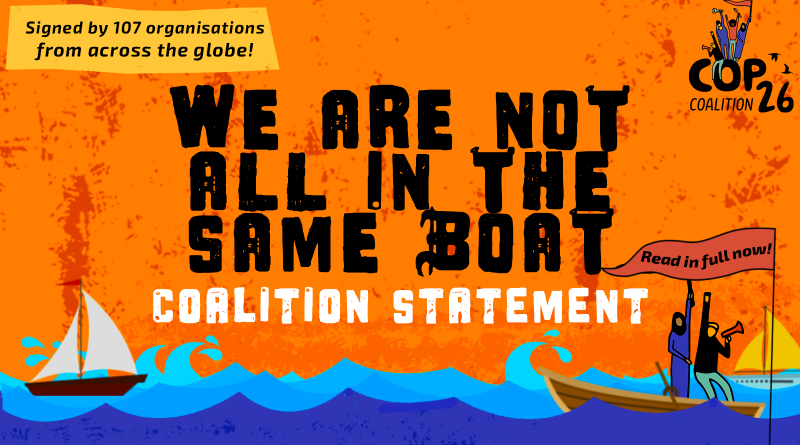 COP26 Coalition releases statement signed by over 100 international civil society organisations which urges caution over government climate rhetoric and demands action which truly addresses the nature and scale of the interlinked crises we face.
This statement is released as the COP26 Coalition gets ready to kick off its huge weekend of free online events 'From The Ground Up: Global Gathering For Climate Justice' TOMORROW, 12th - 16th November GMT, with over 4,000 registrants and hundreds of contributors.
The From the Ground Up Gathering will platform activists from across the world, the majority of whom are fighting against extractive and ecocidal business as usual on the frontlines of climate breakdown in Latin America, the Caribbean, the Philippines, countries in Africa and Asia and many other frontline communities.
In the face of a barrage of false promises and hot air from our governments, this global gathering is an opportunity to hear what the urgently needed solutions that put people before profit actually are, led by those who are most affected. 
This Global Gathering kickstarts a year of climate mobilisation and action from the ground up, working together across diverse movements to create spaces for hope, learning and action, building towards the better world we know is possible.
Read the full statement here: https://cop26coalition.org/resource/statement-2/
See the full programme here: https://cop26coalition.org/global-gathering-programme/ 
If you would like to attend any of the events, please register here: https://cop26coalition.org/global-gathering-registration/
1 November 2020
350.org